HIKS 10.6FT / 3.2M INFLATABLE STAND UP PADDLEBOARD (SUP) SET - BATTLESHIP GREY

HIKS 10.6FT / 3.2M INFLATABLE STAND UP PADDLEBOARD (SUP) SET - BATTLESHIP GREY
$437.00
Who's it for?

The HIKS 10ft 6" inflatable Stand Up Paddleboard is great for beginners to stand up paddle boarding. It gives a smooth ride, it is easily maneuverable, and it packs light. Maximum recommended user weight: 150kg.

Specs

The complete paddleboard set fits inside the water-resistant backpack making it highly portable at a size of L92 x W20 x H32 cm. The 10ft 6" Stand Up Paddleboard inflates to L320 x W76 x H15 cm. This paddleboard features a large EVA traction pad on the surface for added grip. It also has an elastic bungee cord to hold items such as waterproofs or drinks on the board while paddling.

Warranty

All of our boards and accessories come with a 12-month meaningful warranty covering manufacturing faults. Our products are made from durable quality materials, allowing us to offer this extended warranty.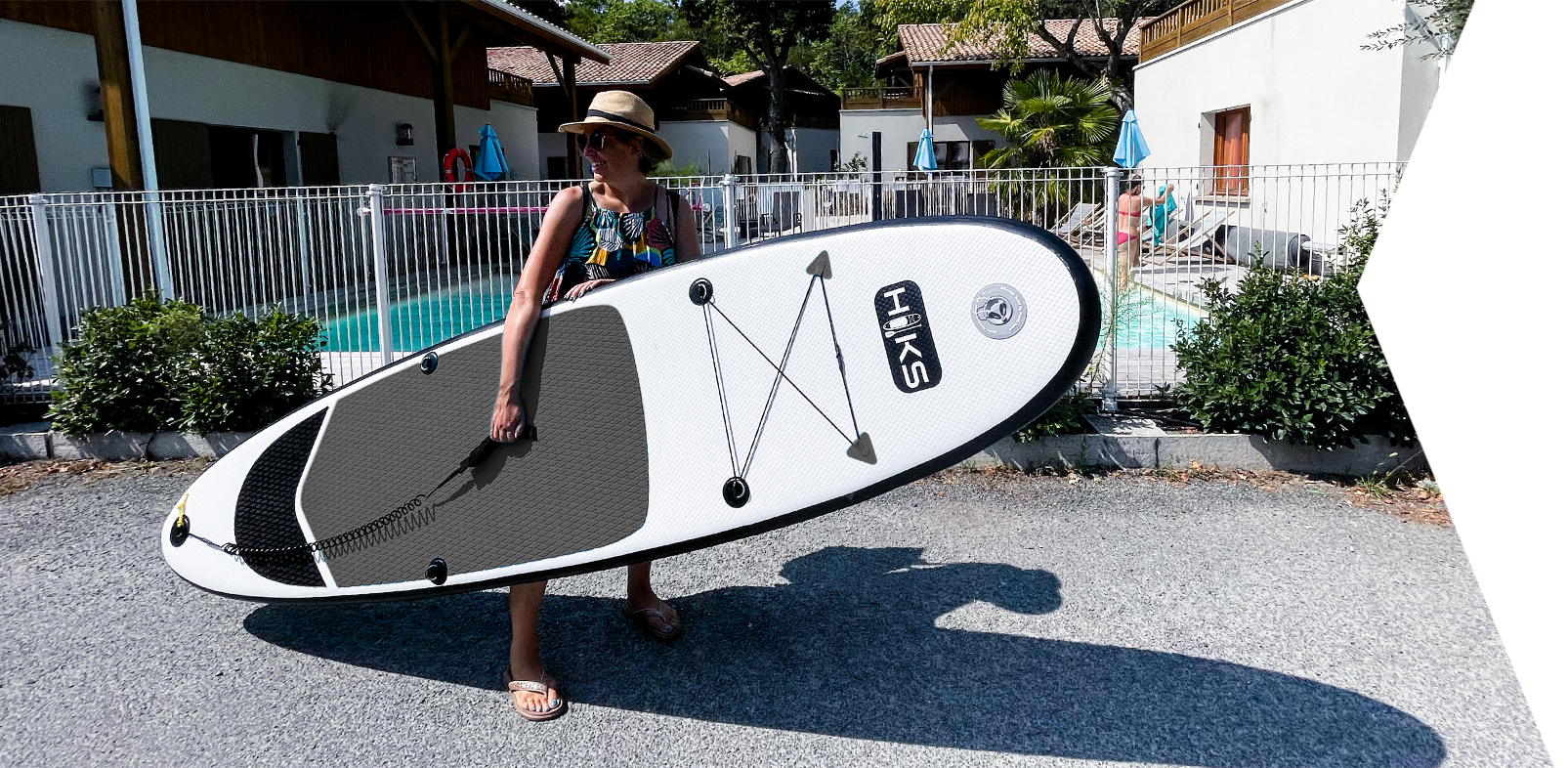 SUPER
PORTABLE
PACKED
92 x 20 x 32 cm
INFLATED
320 x 76 x 15 cm
Summer fun
We love our two HIKS boards. Easy to inflate and deflate, easy to carry around. Plenty big enough for the kids to sit on with us. Great purchase.
SUP review
Excellent service & quick delivery in time for a trip to France.
Board appears well made & used a few times.
Unfortunately the pump is not the same standard as the board - would expect something a little better & delivered broken as plastic brittle. Had to purchase one on hols to inflate.
All in all good product & service
Hiks 10.6ft battleship grey
The board is great I wouldn't put it in the beginner section as it's fairly hard for people to stand on, I did it no problem but others might not be able to but apart from that the hose on the pump broke and I am waiting on hiks to send me a new one but overall a great piece of kit
2 faulty boards
Ordered 2 boards both had different issues whining fully understand things happen but the problem was arranging for collection of the faulty boards which took nearly 2 weeks!! Still awaiting a refund even though photos and videos were sent
3.2m Paddleboard in Battleship Grey
I ordered my Hiks paddleboard in battleship grey from their web site and applied the discount code which enabled me to buy the whole kit at an affordable price.
The board and all the accessories arrived very quickly and after unpacking it was clear it was a good quality board .
It came complete with everything you would need to get onto the water right down to a small repair kit if the worst happened.
Inflating the board was easy using the supplied pump .
The board proved to be very stable and responsive using the quality aluminium paddle supplied .
All in all a good buying experience with an easy to use website excellent price and a quality product.
Very pleased so far with my purchase and would recommend Hiks boards .